E.M. Magic Swf2Avi



E.M. Magic Swf2Avi is the extremely powerful Flash converter software to convert SWF to AVI and other popular formats. The software is designed to convert swf for your mobile video player as avi, 3gp, mp4, mp3, PSP, PS3, iPod, iPhone, Apple TV, XBOX 360, Zune etc and also CD, VCD or DVD player. In particular, E.M. Magic Swf2Avi can help u convert swf to HD (high definition) video formats like HD WMV Video, HD DivX Video, HD Xvid Video, HD H.264 Video, HD Quick Time Video, HD MPEG4 Video, HD FLV Video, HD TS Video, and create Blu-ray folder for PS3 and Blu-ray player.
With Magic Swf2Avi "converting + burning" one-step solution, you could easily convert and burn Flash(swf) to VCD, SVCD, DVD. Magic Swf2Avi supports convert flash to so comprehensive video formats including AVI, MPEG, MPEG2 TS, MP4, WMV, 3GP, GIF, H.264/MPEG-4 AVC, H.264/PSP AVC Video, MOV, Youtube FLV, etc.
In addition, The Flash Converter provides an easy way to extract Flash(swf) file audio and convert to popular audio file, like MP2, MP3, AC3, WMA, WAV, FLAC, M4A, OGG, AAC, AU, MMF etc. The Flash Converter also can burn Audio CD.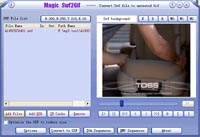 E.M. Magic Swf2Gif
Magic Swf2Gif is a powerful utility that uniquely supports to convert Macromedia Flash SWF to animated GIF. With Magic Swf2Gif, a gif file in any resolution and any frame rate can be output from swf file, so that you can create GIF animation using FLASH MX and SWish. 
Main functions:
Convert Flash to Gif
Convert Flash to TGA sequences
Convert Flash to BMP sequences