Q. How to convert SWF to NTSC, PAL DVD mpeg and burn to DVD disc with E.M. Magic Swf2Avi?
Free Download Total Video Converter
A. E.M. Magic Swf2Avi is a very useful software with two professional tools. Firstly, you can convert your flash to DVD, VCD, SVCD or Mpeg structure with it. Secondly, you can use E.M. Magic Swf2Avi to convert video to DVD and burn it on the blank disc. It is an easy-to-use as well as multi-functional software. With it, you can enjoy flash on your DVD player easily.
  Main features
  1. Batch conversion for SWF to DVDs / MPEG / VCD / AVI
  2. Batch Join for SWF to DVD / MPEG / VCD / AVI
  3. Join many SWF files in one large video file
  4. Extract MP3/WAV sound
  5. Convert to JPEG images sequence output
  6. Capture a frame to a bmp file with alpha channel
  7. No skip frames during conversion
Following the guide below, you will be proficient in using this software to convert Swf to DVD and burn it to DVD disc.
  step 1.Click "News Tasks" to add flash files that you would like to convert.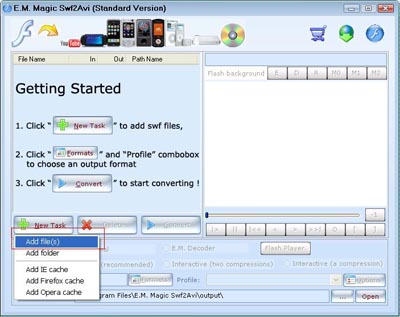 step 2. After adding flash files, the following dialog box will appear automatically. Select DVD format that you want your files to be converted to.
  step 3. Select one effect in the combobox dialog of profile. Then click "Convert" to start converting. Few seconds later, you can enjoy your wonderful movies.
  step 4. After clicking "Convert" button, the media burner will automatically start. click "Yes" to continue, click "No" to cancel it.

  step 5. Once select "Start Media Burner", the following dialog box will appear. Choose one of the burn types that include Audio , VCD , S-VCD and DVD.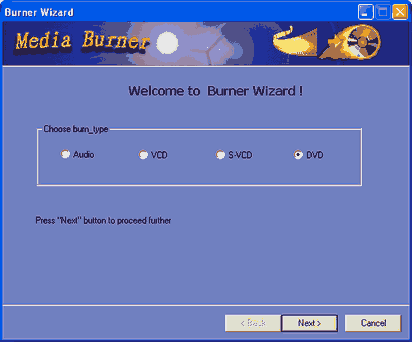 step 6. Click the "Next" button and the system will Look up the chosen burning equipment.

  step 7. Add burning files
(1) To burn DVD, it is important that the information (video format, video size, aspect) of each DVD mpg file must be the same, otherwise, it can't be added. For example, if you choose PAL, 720*576, 16:9, you can't add the files like NTSC, 720*480, 16: 9. The information of the files to be added will be displayed in the list box that you can see in the following dialog.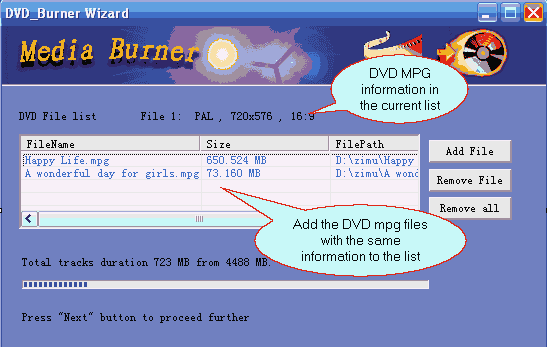 (2) When you burn VCD and SVCD, only one file could be chosen;
(3) To burn Audio file, the supported audio formats include MP3, WMA, WMV, OGG,etc.
  step 8. DVD Author (It is necessary only for burning DVD )
DVD Author is to pack mpg files up to generate .vob .ifo .bup files. Author begins when you click "Next", you can adjust aspect to 16:9 or 4:3 according to your request before you click "Next".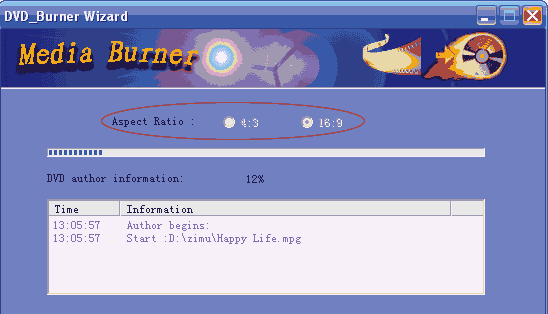 step 9.Burner settings.
You can set the burning speed and whether popup CD, OPC automatically after finishing burning.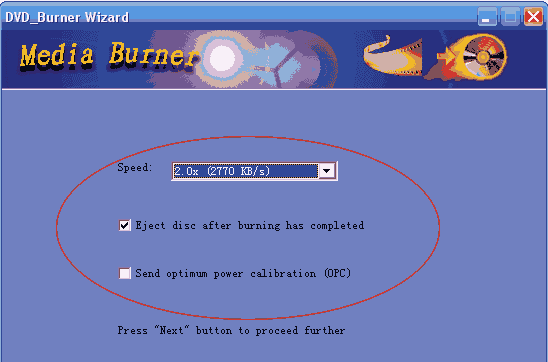 <   step 10. Please click "Start to burn" to begin burning.
Before burning Audio VCD or SVCD, you can click "test" to test.