Q. How to convert Swf to 3GP with E.M. Magic Swf2Avi?
A. E.M. Magic.Swf2Avi is an excellent utility that can convert Swf to 3GP formats files including movie clips, action scripts and audio in the Flash movies. It is designed with simple and intuitive interface and practical functions. It offers you a concise way to convert SWF to video with perfect picture quality and sound quality. With it, you will be able to enjoy your wonderful digital life without worrying about the audio distortion, loss of frames, audio and video asynchronization. If you are looking for this kind of converter, why not try it? Please believe that it will give you a surprise..
  Features of E.M Magic Swf2Avi flash video converter
  1. Perfectly process complicated swf files with no skip frames.
  2. Use audio-extracting method to accurately keep 100% of the original sound and playback.
  3. Easy-to-use interface
  4. Synchronization of video and audio.
  5. Convert flash to 3gp and enjoy it on cell phone with the generated files.
Here you will learn how to convert Swf to 3gp with magic E.M. Magic Swf2Avi.
  step 1.Run the software, in the main window, click "New Tasks" to add flash files that you want to convert.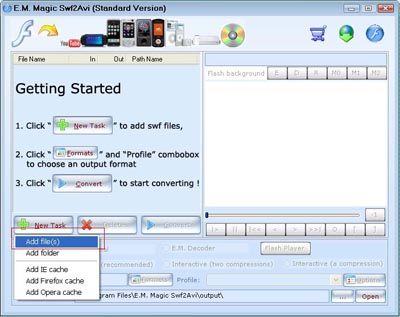 step 2. After adding flash files, the following dialog box will appear automatically. Select any format you like in 3GP video.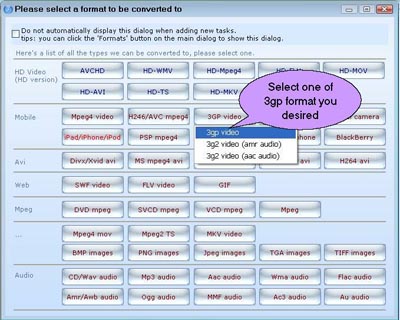 step 3. Select one quality in the combobox dailog of profile. Then click "Convert" to start converting. Few seconds later, you can enjoy your winderful movies.