E.M. HD Video Converter
Convert and Burn video to AVCHD for PS3 and Blu-ray player
Converting all video to HD (high definition) video formats
Convert video and AVCHD to DVD, DivX DVD
E.M. HD Video Converter is a wonderful video converter that lets you not only convert your favorite video to AVCHD which can work on PS3 and Blu-ray player, but also convert all video to various HD (high definition) video formats like HD MPEG2 TS Video, HD H264 TS Video, HD WMV Video, HD DivX Video, HD Xvid Video, HD H.264 Video, HD Quick Time Video, HD MPEG4 Video, HD FLV Video, HD MKV Video. besides, E.M. HD Video Converter can easily burn all video and AVCHD HD video (mts, m2ts, ts) to DVD, DivX DVD.
E.M.
Free Game Capture
Real Time Capture High-Def games to any formats video
E.M. Game Capture is designed to capture games and changes of your desktop, and record the variations to video files of various formats which including avi, flv, wmv, mkv, mp4, 3gp, 3g2 and other popular formats in different frames per second.
Multilayer Image Processing SDK
Unique cross-platform multilayer image processing
software development kit
E.M. Multilayer Image Processing SDK is a cross-platform multilayer image processing software development kit. It can process multilayer images on many different platforms. It can add frame, mask and shadow to your images, and convert text to image, and also contains basal functions to process image as gray, threshold, blur, stretch, rotate and so on. At last, it makes these images together then creates a fancy picture.
Magic Swf2Gif
Magic Swf2Gif is a powerful utility that uniquely supports to convert Macromedia Flash SWF to animated GIF. With Magic Swf2Gif, a gif file in any resolution and any frame rate can be output from swf file, so that you can create GIF animation using FLASH MX and SWish.
Converting Any Flash to GIF Animation
Magic Morph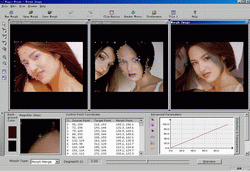 Animate Your Still Photo to SWF, GIF and AVI with Amazing Effects
"The coolest tool to make image morphing effects !"
Magic Morph is a high performance morphing and warping software which used a lot of advanced recent "Morph" technologies, With Magic Morph, you can morph and warp images with astonishing quality in a simple, easy way.
Visual Photo++
Enhance your photos with lots of advanced auto image processing algorithms
"Browse photos with popup thumbnails !"
Visual Photo++ is a powerful utility that uniquely supports to browse photos with popup thumbnails and enhance the photos with lots of advanced auto image processing algorithms. Visual Photo++ is not only a comprehensive application ideal for acquiring, organizing, viewing, and sharing your images, but also a powerful photo enhancing software for automatically adjusting image's exposure, color, despecking image's noise and so on.
E.M.
Free Photo Collage
Free DIY personalized photo collage and digital scrapbook for print
E.M. Free Photo Collage is a free, fun and easy-to-use tool to make impressive photo collages and digital scrapbooks with your photos. you can select a favorite photo as background, arrange multiple photos on the paper, then apply operations to them, such as rotating, resizing, adding frame, changing position, and changing overlay order, and merging them into image with mask templates. also you can choose a collage templates, drag-and-drop your photos to create unforgettable gifts and keepsakes.
E.M.
Free DVD Copy
Copy, shrink and burn DVD movie with high speed and high quality.
Convert DVD to Avi, Mpeg and any other video and audio formats.
E.M. Free DVD Copy is an easy,effective,handy DVD movie backup and software! By using E.M. Easy DVD Copy, you can easily copy,shrink and burn your whole DVD at a high speed and with high quality and rip DVD to all popular video and audio formats such as AVI, MPEG, WMV, DivX,MOV, 3GP,MP3, WAV, WMA, AAC, AC3, M4A, OGG, etc. You can also copy or shrink your favorite titles, pgc, chapters, subtitles and audios to hard disk or blank DVD disc.The size of the compressed DVD movie can be decreased to 20% of the original file.
E.M.
Scratched DVD Copy
Copy movie from damaged, scratched or defective DVD to
Any video Format
E.M. Scratched DVD Copy is a free DVD Copy and rip software which can copy movie from damaged, scratched or defective DVD discs to AVI, WMV, MPEG, FLV, Jpeg, etc. The pro. version can rip scratched DVD movies to iPod, iPhone, PSP video, Zune , XBOX360, Mobile phone(Nokia, Sony Ericsson, Motorola), and copy scratched DVD to AVI, MPEG, MPEG2 TS, MP4, WMV, 3GP, GIF, FLV, SWF, H.264/MPEG-4 AVC, H.264/PSP AVC Video, MOV, Youtube FLV, etc. video format.
BDMovie Maker - Blu-ray Authoring Tool
Author and Burn TS, M2TS to AVCHD, BD (blu-ray disc)
Make TS, M2TS into ISO image (UDF 2.50 file format)
BDMovie Maker (freeware) is a useful blu-ray author tool which can help you author and burn TS, M2TS to Blu-Ray disc (BD) / AVCHD disc.
And we providing a Blu-ray Authoring SDK for software developer, and if you want learn more detail information, please click Blu-ray Author SDK.
E.M. Total Video Player
Absolutely free, very powerful!
No need install any video codecs with this small size's and tool to play almost any media formats!
Total Video Player is a free media player supporting 3gp, Mp4, H264, Mov, Flv and all other popular video and audio formats (Mp3, Wma, Ogg, Mpeg-1, Mpeg-2, etc.) as well as DVDs, CD Audio and Swf Flash Files.
More Information
Mac-Appstore
Total Video Converter
Total Video Converter

For Mac
iTinySoft release Total Video Converter

3.60
iTinySoft release E.M. Total Video Converter

3.20
iTinySoft release E.M. HD Video Converter

1.00
iTinySoft release E.M. Total Video2Dvd

2.80
iTinySoft release E.M. Total Video2Dvd

2.60
iTinySoft release E.M. Magic Swf2Avi 2008 build

5.2.7.281
iTinySoft release E.M. PowerPoint Video Converter

2.20
iTinySoft release E.M. Youtube Video Download Tool

2.48
iTinySoft release E.M. Total Video2Dvd Author

V2.50
iTinySoft release E.M. Magic Swf2Avi 2008 build

5.1.6.417
iTinySoft release E.M. Free PowerPoint Video Converter 2.11 (

freeware

)
iTinySoft release E.M. Youtube Video Download Tool

2.45
iTinySoft release E.M. Free PowerPoint Video Converter V2.10 (

freeware

)
iTinySoft release E.M. Magic Swf2Avi 2008 build

5.0.8.521
iTinySoft release E.M. Youtube Video Download Tool

2.42
iTinySoft release E.M. Free Youtube Download Tool 2.31(

freeware

)
iTinySoft release E.M. Easy Dvd Copy 2.0
iTinySoft release E.M. Total Video2Dvd Author 2.45
iTinySoft release E.M. Free PowerPoint Video Converter 2.0 (FREEWARE)
iTinySoft release E.M. Total Video Converter 3.12
iTinySoft release E.M. Youtube Video Download Tool 2.31
iTinySoft release Total Video2Dvd Author V2.40
iTinySoft release Magic Swf2Avi 2008 build 5.0.8.118
iTinySoft release E.M. Youtube Video Download Tool 2.30
iTinySoft release Total Video2Dvd Author 2.30
iTinySoft release E.M. Easy DVD Copy 1.20
Magic Swf2Avi 2.10 released
EasySec Studio release EasySec Firewall SDK 1.20
EasySec Studio release EasySec Firewall SDK 1.10b
Magic Swf2Gif1.11 released
Magic Morph1.95 released, this version of Magic Morph is stable and robust